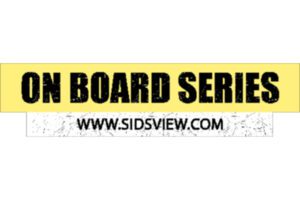 The On Board Series profiles a single race team in each video utilizing multiple on-board cameras plus the team's radio communication. This series is most compelling when produced at short tracks that are a half-mile or larger, such as the 1/2 mile Stafford Motor Speedway where the series debuted in 2018. It is produced only in divisions which spotters are required.
We utilize up to 9 cameras mounted on the race cars, including: rear bumper, front bumper, right side, left side, inside the cockpit, facing the driver and on the roof. We can also use eye-glass or helmet cams if the driver/race team is willing to do so.
The audio usually contains communication between the driver and spotter but may also include any other team members on the frequency such as the crew chief or team owner.
For the 2021 season, the On Board Series will be produced for select events at New Smyrna Speedway during the annual Speedweek in February. Click here for more information on becoming a marketing partner for this series.
Click here to browse our entire On Board Series archive.
#OnBoardSeries